---
Fighting with your cats over scratched furniture?
Cats don't listen and training them just doesn't work. They do whatever they please, like most cats in the past you just have to live with it. 
Now with ClawProtect™ never stress again ClawProtect™️ simply replaces the arm-wrestle between you and your devoted pet. It's easy to use place it on your furniture as soon as you see the cat start to scratch or rub against it. In no time, your cat will associate scratching with the unpleasant feeling of the texture of ClawProtect™ and stop scratching that surface.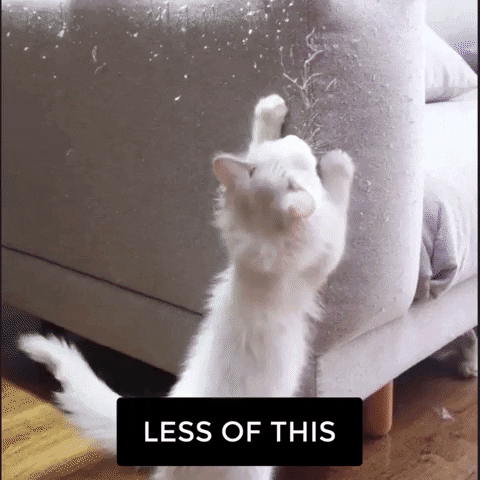 BENEFITS
✔️ FITS YOUR NEEDS: ClawProtect™ can be cut with ease and cover even the smallest areas of your furniture.
✔️ TRAIN YOUR CAT: Apply ClawProtect™ to the places your cat scratches most often. They will associate scratching with our protectors unpleasant feeling and learn not to scratch.
✔️ SAVE MONEY: Stop replacing or repairing your furniture, save time and money with ClawProtect™️
✔️ UNNOTICEABLE PROTECTION: ClawProtect™️ is 100% clear so you can place them on furniture without it being noticed.
✔️ REUSABLE: Once your cat stops scratching the spot easily remove the protector and reinstall as you need. 
Quick and Easy Install! 
✔️ QUCIK INSTALL: 100% TRANSPARENT ClawProtect™️ will only take 5 minutes for installation.
Quickly vacuum and clean the area
Cut the protector to desired size
Peel off the adhesive backing
apply where you wish to protect
Secure the area by inserting one twist pin at a time. It's that easy!
NOT SOLD IN STORES
Need Assistance?
We'd love to hear from you! Simply complete the form on our contact page to reach out to us. We will address your message shortly. If you have questions we have answers!
Free Express Delivery
We offer Standard Express Delivery with shipping times as fast as one week. Orders from our website can be directly tracked in real-time via the Track Order page or by installing Arrive app. 
Free Returns & Exchanges
Not satisfied? No worries! We offer a 30-day money-back guarantee and exchange policy. You can return the contents of your package for a hassle-free full refund. 
This section doesn't currently include any content. Add content to this section using the sidebar.